The hardest-hit New York City is bouncing back once again as Omicron cases continue to rapidly fall at the same speed they increased in mid-December and New Yorkers look forward to enjoy the city as it was before the pandemic. ADVAN's foot traffic data shows an uptick in foot traffic mobility overall however the trends differs from area to area.
For example, foot traffic in fashionable SoHo started to increase significantly the first weekend of this month after the Omicron wave started to subside in the second half of January. Although the traffic is still down in February when compared to the same days in 2020 i.e., down 42% the first Friday of the month versus the same day in 2020, the data indicates that it is recovering much faster since the first weekend of February. On Sunday the 13th the traffic was down 29% versus same day in 2020 but jumped to 32% versus the Sunday, two weeks ago.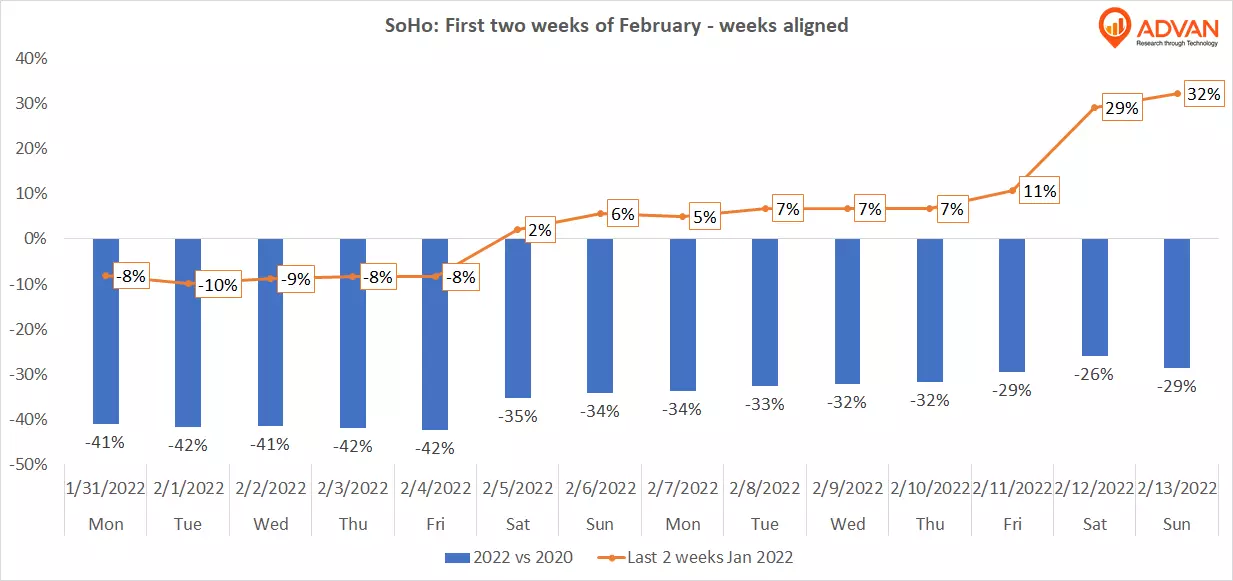 Crunching the data for Midtown Manhattan, which is home to iconic attractions, Broadway theaters and office buildings, the picture is different. The foot traffic is still down 50% in February on average versus the same weekdays in 2020, when work from home was not a popular alternative.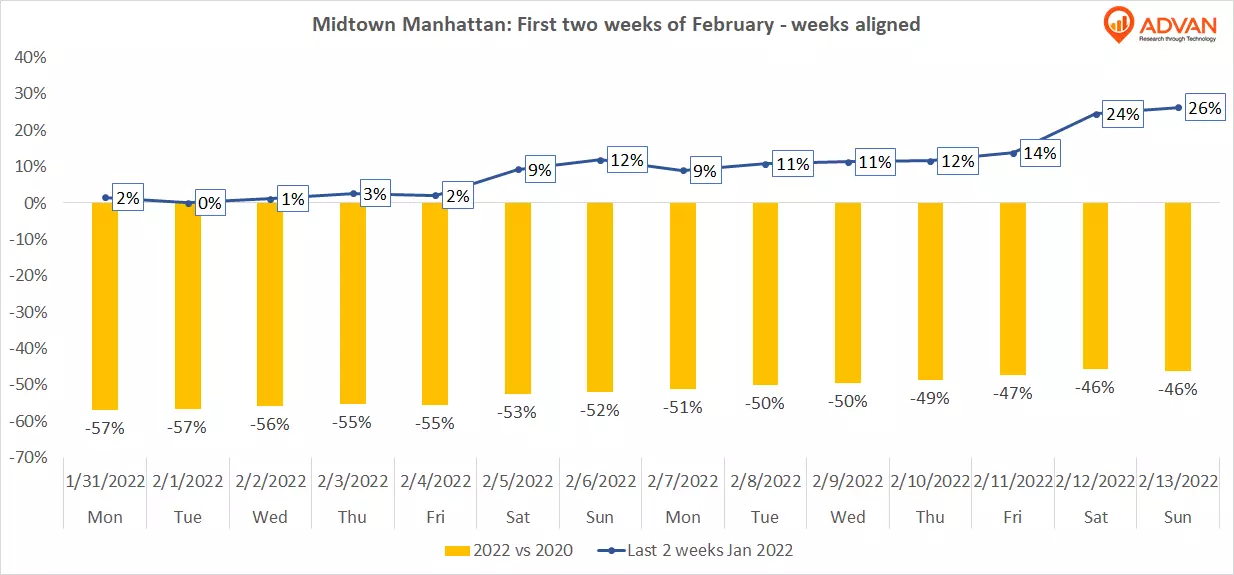 Looking at the Grand Central Terminal, one of most popular landmarks and the city's second busiest train station, the data shows that foot traffic is still down about 65% versus 2020 but it has been picking up at a faster pace since some companies requested their employees to return to offices starting February.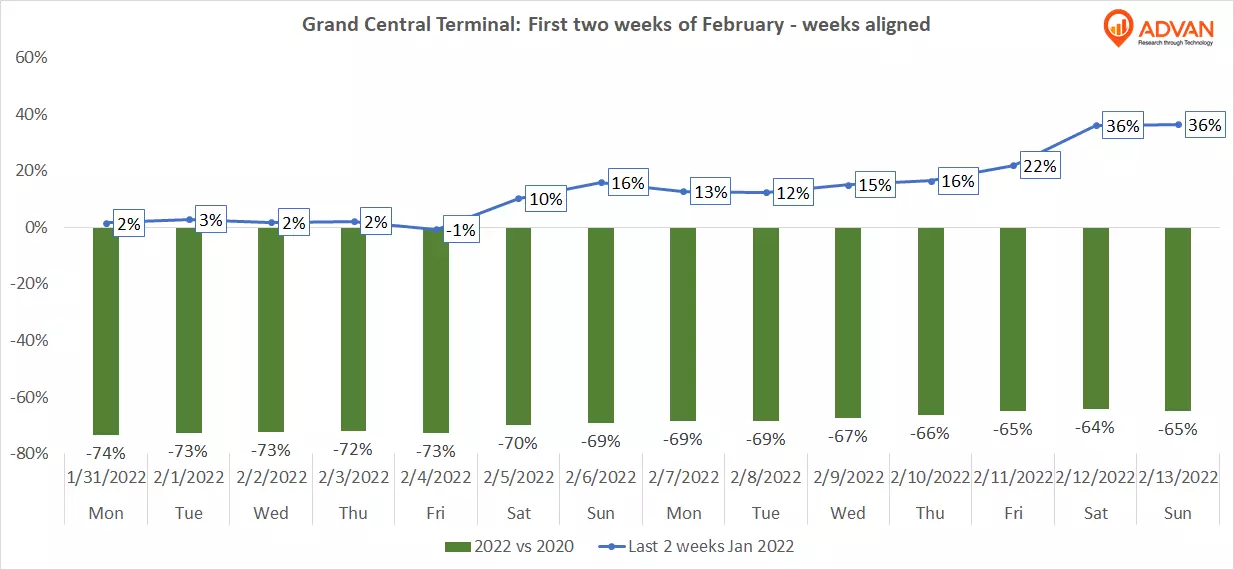 Restaurants' recovery is also gearing up speed after big declines in visits during the Omicron wave. Following ADVAN's restaurant index, statewide restaurants in New York have seen an increase in visits the week of Monday Februarythe 7th versus previous weeks. Same for the restaurants on the west coast, however the data indicates that New York's restaurant industry is recovering at double the speed in comparison to California's restaurants.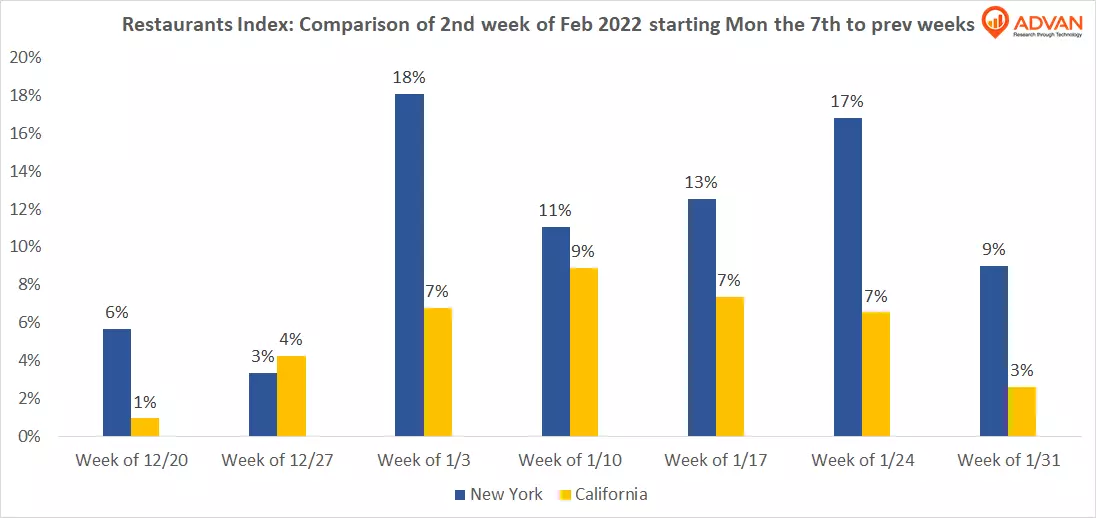 The overall data indicates that New York is coming back, fast, led first by tourism, leisure and entertainment and secondarily employees returning to the office. We expect the trend to continue with all its advantages (lively New York scene) and disadvantages (crowded subways).