One of the most popular use cases of location data for landlords and developers is the site selection. Another more popular for Real Estate investors, Private Equity firms and retailers is monitoring of the performance of their assets/stores.
On a recent article published by Kate Gibson, Kroger, one of the most prominent grocers in the US, is expected to shut down two California stores to avoid offering workers 'hazard pay'. Both of these stores are located in the Long Beach area, one is under the Ralph's franchise while the second one under Food 4 Less(both brands are Kroger subsidiaries).
When big firms like Kroger decide to close a store, they are taking into consideration many parameters; the first one comes to mind is the profitability of the store itself. Kate's story sparkled our interest and we decided to dive into our data further to put this hypothesis to test: is Kroger closing these stores due to the 'hazard pay' or there are other fundamentals reasons behind it such the stores have not been performing that well?
On the first chart we have isolated all the Ralphs stores in the area and compared them to their peers nationally. There are five such stores in Long Beach with mostly the same foot traffic pattern, the majority of them is following the national average but the store located at 2930 East 4Th Street is doing significantly worse than the others. It stands out as the worst performer with more than 40% YoY drop, so if foot traffic was an indication of which store would be closing, the strongest candidate would be this.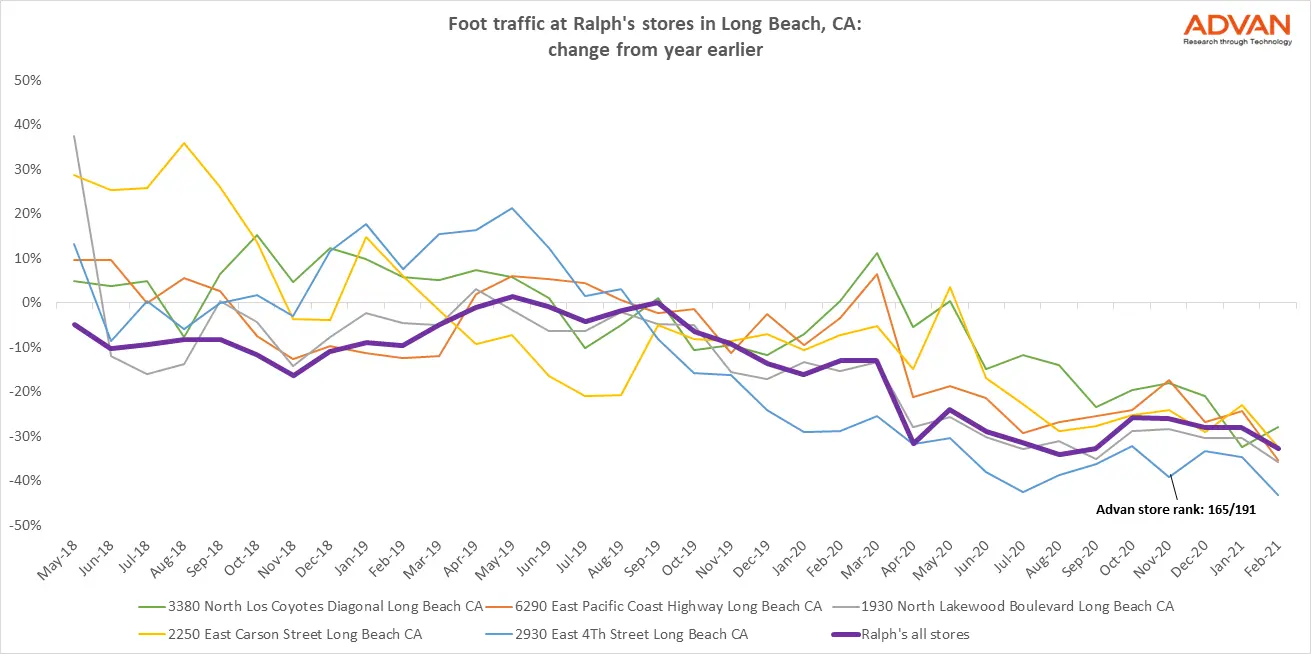 On the second chart we have isolated the three Food 4 Less stores in Long Beach. Things are a bit clearer for this chain as the best store of the 3 ranks 48th out of the 106 stores operating nationally and the second trails at approximately the national average for the grocer. The store located at 6700 Cherry Avenue though has been lagging consistently over the last few years and ranks 75th for the last quarter while the average drop in its foot traffic is about 48% for the same period.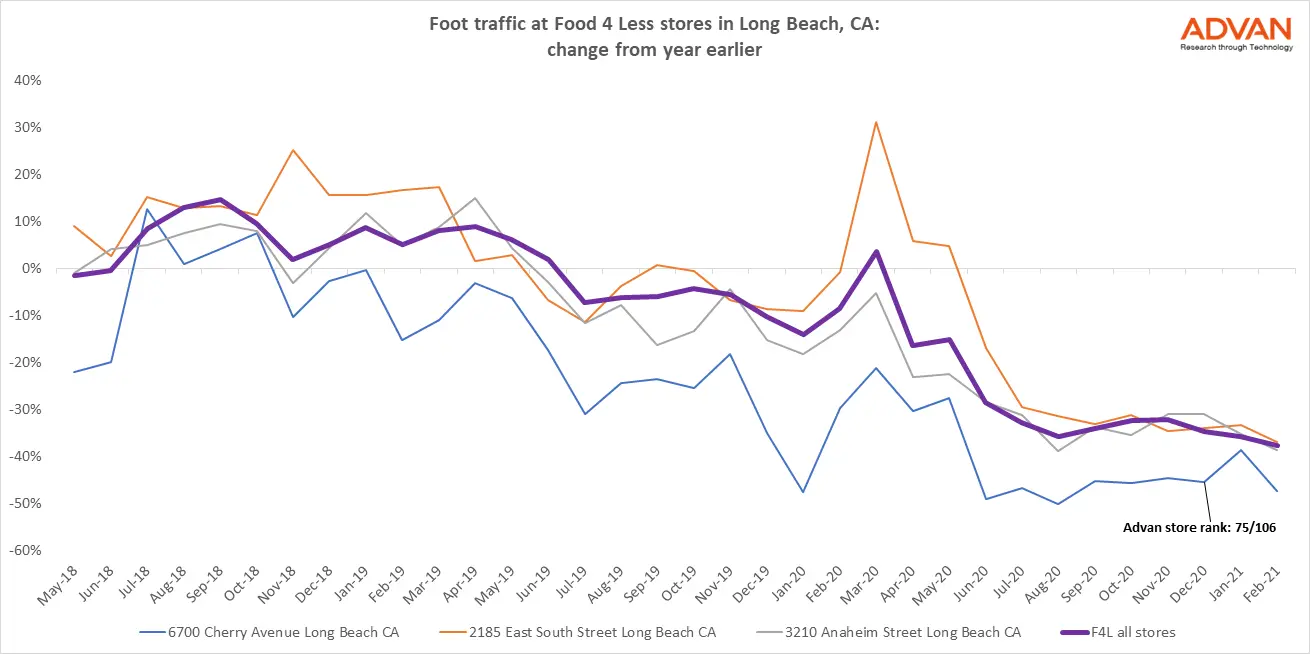 Even though there is a significant evidence of underperforming stores across these two brands, we cannot be certain for the reason of closure. Having said that we can have a more educated reading based on our foot traffic analysis on which are the more likely stores to close. If you want to see our full analysis and see how these two brands Food 4 Less and Ralph's compare to the parent entity (Kroger) along with the rest(more than ten grocer brands that Kroger owns) please contact us.