Following up from our recent blogpost that we measure the recovery of the Malls, we have revisited all these properties to see how the picture looks like if we incorporate the full month of September. In summary nothing has really changed, the full recovery still remains to be seen. The foot traffic on August was worse across the board while September was slightly better than August on a Yo2Y basis but we are still not in a full recovery territory yet.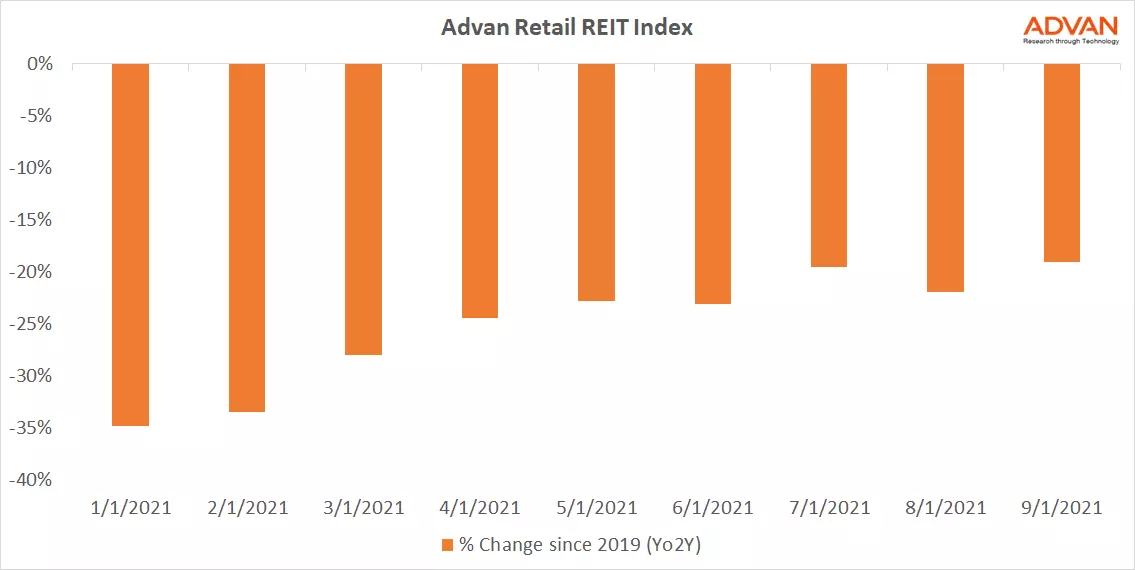 More specifically the Advan Retail REIT index for the month of September was at -19% Yo2Y, marginally the best recorded percentage change on a Yo2Y basis but still far from the neutral territory that will signify a full recovery.
Similar trends are observed on the Simon Properties versus Brookfield properties with Simon doing significantly better than Brookfield. Worth highlighting here that the foot traffic computed for Simon includes all the Taubman properties that the company acquired at the end of 2020, therefore it's traffic is inflated for 2021 with these properties that didn't exist on 2019. But even with these additional 24 or so properties Simon hasn't reached its 2019 traffic levels.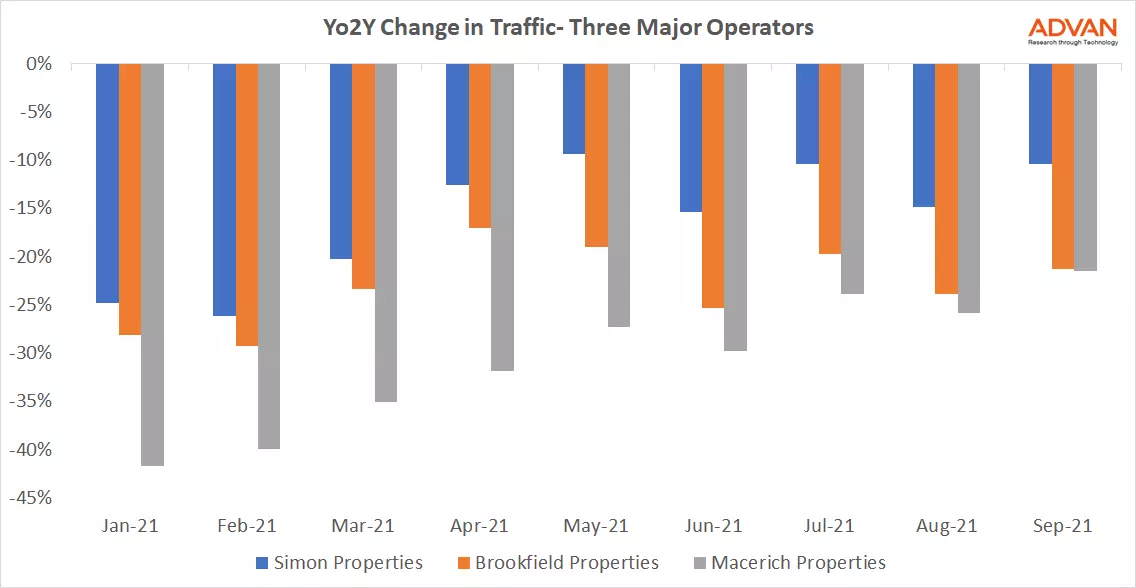 We do note that Macerich Properties' foot traffic is down 20% since 2019; this differs materially from the company's claims that the foot traffic is higher than 2019. We speculate that this discrepancy is due to Macerich's management not having access to accurate unique visits measurements. This discrepancy does not exist in number of employees, where data is easier for Macerich to obtain; our measurements show that there are 25% fewer employees in Macerich malls vs 2019, and Macerich agrees that hiring employees has been an issue.
Lastly we looked at the same eight mall to see if there are any significant updates, some are doing better than others with the Destiny USA recording the best Yo2Y comeback for the month of September of approximately -9.4% but across the board there hasn't been a single of these properties that touched the 2019 foot traffic levels.